It's so happy and overwhelming to the heart that you are able to expand horizons. Of my 2 years of stay in college, i'm so glad i met this set of loyal and true people. with those years, we all worked hand in hand to make each other's life more easier to be carried on. high school is indeed really different from college life. months ago, i asked an old friend to differentiate the two. She said: "i actually don't know. i cry of different things. in my high school years, i cry because of friends. now that i'm in college, i cry because of love. but anyway, i love both." I agree with this great buddy of mine. teka, nalalayo tayo. lets go back to this set of new friends. i am luck enough to find them. my self-esteem were developed that's why now, i'm a strange wacky person. they also helped me in boosting my self confidence. ngayon, medyo malakas lakas na ang kumpiyansa ko sa sarili ko. nakarecover na uli ako sa pagbagsak ko dati. haha. None of them left me behind. sa kanila ko naramdaman/nakita na whatever happens, dito lang kami beside you. in good times or in bad times. i'm so pleasured enough to be with them.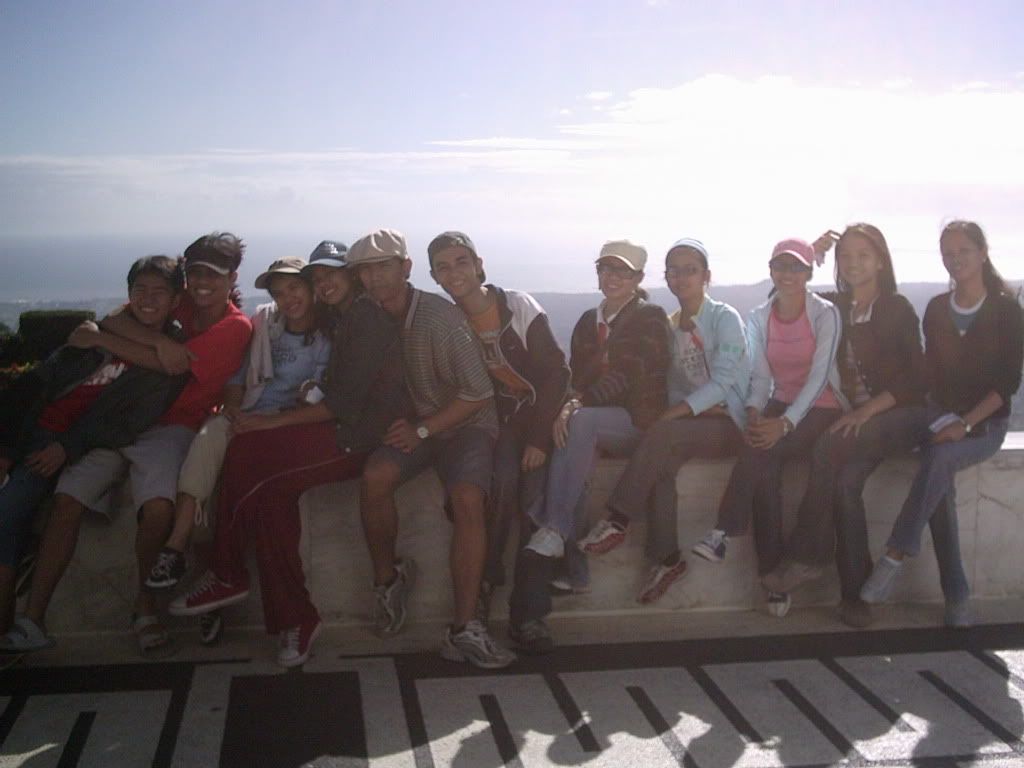 ---
The Weird Thing
Maybe it's about time to tell you guys who I really wanted to me. To many people I'm so mysterious for they really can't define me. i accept changes and anything that is not supposed to be accepted with open arms. I know in the end it's me who'll suffer. in the end i know it's me who'll have to take the consequences the world has to give. there's always this strange thing that even me can't explain. I'm happy to be a nursing student from the school of free for not taking the forced course, i will not be able to meet those good friends of mine above. The attention span changes one's personality and character so as to me. In the morning, I want to be a mathematician though i'm not really so good at it. hehe. even if it's my highest grade during my high school years. i'm not that active enough but i know my dream of living with numbers will lead me to something i know that is productive. in the afternoon, i want to be a philosopher. i also want to discuss social events during this span of time but discussing those is just a part of my dream to be a philosopher. i wish to get a degree in philosophy at the seminary before i get married and have my lovely daughter and son. though i know that i have this good perception and view in life, i believe my view will be better and by expanding horizons, i'll be able to know myself first. in the evening, i want to perform on stage. i want to continue my career as an stage actor. whooosh! i got awards and do perform major roles before but so sad that only some seems to appreciate my only(?) talent. anyway, i know i can't please everybody. acting on stage play is my passion and that's the kind of living i want to have by night. Now, here's the conflict, I'm a student nurse at night. haha. Now, i am enjoying what's not suppose to be mine. everytime i pray to the one who made it all, i always pray that i'll be able to save lives for that is our mission. for that is our goal. i always pray of the right path. now, i am saving two years of my future live to serve the massess for free. missionary nurse ba kung baga, haha. masaya yun sigurado. can't wait. pero hindi pa diyan nagtatapos ang mga pangarap ko sa buhay. mga around 11pm-1am gusto kong mging isang disc jock. dj ba. hehe i wish to be a counselor by those time. sharing the songs and all good advices to cure the heart and all. samantalng ako di ko matulungan ang sarili ko. kailangan ko pa magundergo ng counseling para magkaroon ng great realizations. Of course, like all i also want to sleep. rest muna tapos by 5-6am i want to be a writer. ung mga million dollar ideas ko nun talaga lumilitaw. Amazing! haha. that's the rotation that i want to happen in my life.
P.S.:
Syempre ang pagkain sa ilang oras na lang ng work and all.
Few people knows that. Now, i'm opening the door to all people especially my close friends na pinagtaguan ko ng mga gusto kong gawin sa buhay...
A quote from Invictus by William Ernest Henley:
it matters not how strait thr gate,
How charged the punishment the scroll,
I am the master of my fate;
I am the captain of my soul