The finalists for the 2007 Philippine Blog Awards are out. Check out who made it to the finals!
Main Category Awards Finalists
Special Awards Finalists
Also, the voting for Philippine Blog Awards for the Blogger's Choice Awards category for this year has already started and will end not later than March 31, 2007. And it is official that the Awards Night for Philippine Blog Awards will be held at Podium 4, RCBC Plaza Auditorium in Makati City. The event will start at 6pm and assumed to end at 8pm. Subjected attire is semi-formal to formal.
I of one of the nominees for Philippine Blogger's choice Awards so let me take this opportunity to extend my reaches to have the said award if you think i really do deserve. haha. Please click the image below and fill up the required fiels. you can only vote once. double entries will be deleted so don't make extra effort. hehe.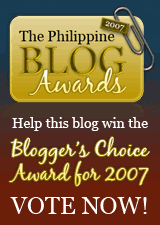 i am the first in the list of nominees (aaronjames)
For legal purposes, here's my e-mail address:
gnomishwysard@yahoo.com
i wish to have the e-ticket sana so that i can come and enter inside. haha. Congratulations to all the finalists! May the best of the best win. :D I bet, to be a part of this event is really does complete one life as a blogger. :)