Two weeks from now, i have to finish my thesis and i haven't collated the datas yet. Examinations and Grand Case Presentation are also additional problems to think this February. I passed the Philippine Constitution examination but my coming Major Exam for Medical Surgical Nursing 2, i am not sure. The Cut off is already 75% as declared by the PRC. it's already a preparation for the board examinations. i hope to pass as a regular nursing student with no failing grade. waha! the The implementation of our seen health threats in our Community Diagnosis last semester will also be observed within the coming week. It's a FebFahirap week. Not a real FebFair. waaahhh.. I really hope to pass. by the way, on the 17th of this month, I'l be in UP Diliman to unwind. haha. lotsa bands. :) then on the 18th, i'll be attending the seminar. Gawd.
Nominations are now open!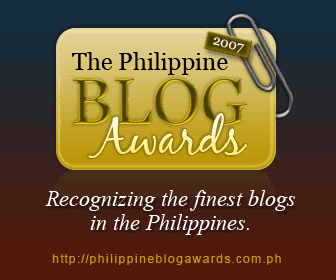 Yep, you read it right: Nominations for the 2007 Philippine Blog Awards are now open! You may submit as many blogs as you want—if you think they deserve to be called one of the Philippines' finest blogs. You can also nominate somebody else's blog. Oh, and yeah… Before anybody asks… There's absolutely no entry fee to join the Awards!
Remember, the nomination period will run starting today (14 February 2007) until 28 February 2007 (that's a Wednesday). So what are you waiting for? START NOMINATING!