Everything was settled. June 9, 2pm at Starbs. Again, another blogging event but this time it was organized by a very influential (ikeee) blogger no other than this 16-year old buddy of ours who else but
Kevin Moses Bautista
. For some reasons, I came in late. and so for that, I cannot tell the first part of what happened. too bad for me.
C
o
l
o
r
e
d
Yellow
[?]
I came at MoA at exactly 4pm. I have received a lot of sms since I'm so late. how was that? haha. I was instructed by Billy to enter and turn right after. I was like "huh?". Mall of Asia is so big to be instructed that way. but anyway he sent some follow up instruction that they were at Yellow Cab. that's when i fully understood what that go enter and turn right is. of course we ate there (or else the staffs will send us out. LOL). we also had our chit chats there. taking every second of opportunity to talk to every blogger present even for a short period of time. too bad cars has to go immediately. the sad part is I'm excited to meet her personally and talk to her one on one. hehe. (Don't make issues. we've known each other for a year and 2 days that time. hehe. lol). And i really believe she is nice. yeah, so nice. I know there will be more opportunities to have some time to talk to her. I promise that time I won't be late. XD
Feel the
PAIN
We decided to invade the Ice Skating Rink at MoA and do the moves. It was a bloody moment for some of the bloggers specially to Joe, Billy, and Me who had several bruises while the rest had some blister/s on their ankle part. We all had fun. I do not know if Rens does too. We ate dinner at the foodcourt but Rens has to leave early (earlier than the girls). After, the South people had their goodbyes except for Joe. By the way, thanks for Yna for buying us some expensive socks. haha.
Nightout Fever
We spent the night at Malate (which reminds me of you know, hehe). but anyways, we stayed at Blue Room and had our drinking session. Since most of us are "wais", we asked the personal staff if we can bring some snacks (chips) and he gave us a pleasant yes. Shari, Irvin, LA, and me went to a mini stop to buy some so that we can save money and spend more time drinking at Blue Room. We have talked about business, politics, blog, life and Kevin's Californian accent which Jeff is counting from time to time. Brave Kevin took Shari's challenge to have a shot of Bacardi. was Bacardi that hot?
Singing out LOUD
contentment[?] is far from our thinking. We decided to go to Fats (KTV) to sing and we took the Egypt room since it's the only room available. It was a blast. I really had fun though I'm not singing that much. to see LA and Jhed pair up for songs like Reflection, I'm Not A Girl, Not Yet A Woman, and the sorts made us more happy that even made us laugh out loud. And oh yeah, that High School Life by Benj made us reminisce our high schooldays. wahaha. We decided to go home at around 4am. I came home at exactly 7am. I kissed my mom and hugged my dad and told him Happy Father's Day. darn. Father's Day is this coming 17th of June and not the 10th. uh, oh. A mistake for me. haha.
So who were present for that blog event?
Yna
,
LA
,
Kim
,
Joe
,
Shari
,
Billy
,
Cars
,
Karla
,
Chabs
,
Jed
,
Vinci
,
Rens
,
Jhed
,
Moses
,
Jeff
,
Neil
, and yours truly. Ahihi
And oh,
Benj
and
Irvin
also came to join us at around 9 in the evening 'til 4 in the morning.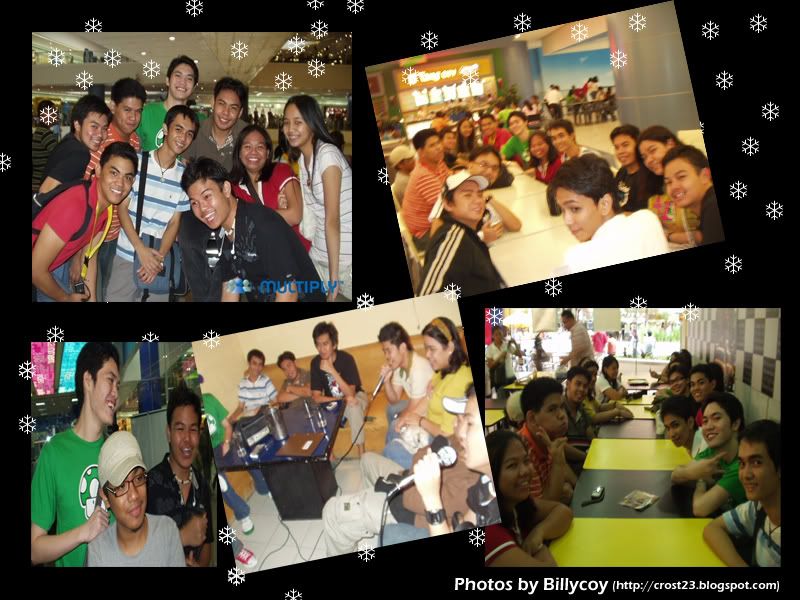 So what's my overall reaction/feeling after that event?
I had a total fun. It was a blast. I'm looking forward for more. :-p